Protect your assets
Get better rates
Simple debt solutions
In-page navigation
---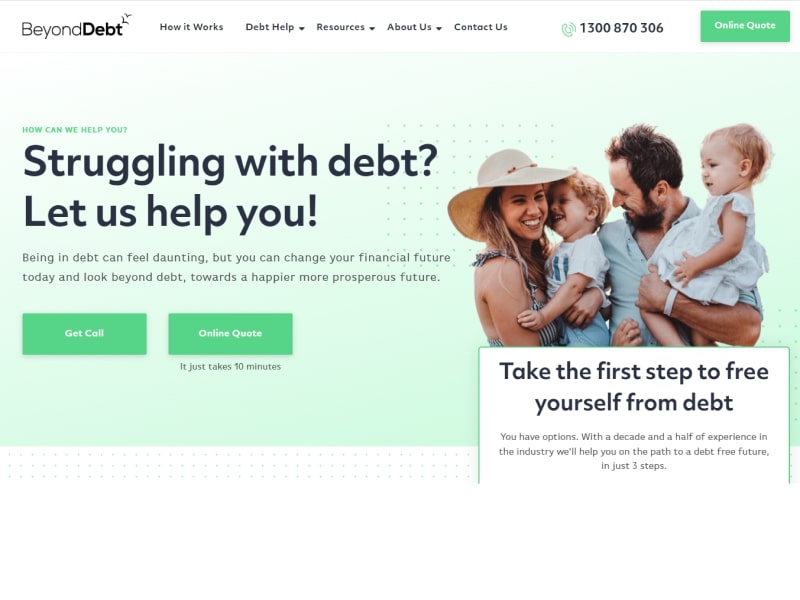 Author Beyond Debt. Screenshot of Beyond Debt website.


[Accessed April 7, 2021]
Beyond Debt – We can find an affordable debt consolidation option for you
We are an Australian debt solution provider. We identified the need for a service that would potentially assist struggling Australian with debt over 10 years ago.
We navigated the available solutions and provided an on-going support service to ensure success. And the end result of Beyond Debts beliefs and is dedicated to the cause we have developed into one of Australia's largest debt agreement administrators.
A company Australians trust
We have assisted over 12 000 individuals and cleared more than $130 million in debt countrywide. We have a qualified team that works faithfully with our customer, showing their support through the application process and meeting their financial goals and a step closer to financial freedom.
We are committed to creating every Australian to be debt-free; we have assisted individuals for over a decade to become debt free with our debt consolidation loans and advice. We are able to do this with our expertise in helping individuals who are insolvent. This is if they cannot keep to their obligations of paying their bills when they are due.
Becoming debt free can change your life
It doesn't matter if you are in debt with $8 000 or $80 million our range of debt solutions, are able to assist those struggling to make repayments.
We do a survey on our completed clients and we are delighted to hear how our services have reduced stress, saved relationships, improved standard of living, made lifelong goals possible, the inspiration to save and invest and afford the means to travel. We pride ourselves on the fact that we have thousands of satisfied customer year in and year out and are now debt-free. Being debt free can change your life for the better.
Debt consolidation
Debt consolidation means you roll multiple debts into one loan account which will settle all your accounts and that you only have one loan account to repay. Most individuals will make use of an unsecured loan to consolidate their debt.
A consolidation of debt is ideal for multiple short terms, high-interest debts such as a credit card, payday loans and overdue accounts. Consolidated loans have a lower interest rate, and you have the convenience of one payment.
Beyond Debt – Consolidation loan
Loan Type

Debt consolidation loans
Benefits of Beyond Debt
Get protection against creditors
We negotiate better terms
Debt relief services
---
Beyond Debt – Debt consolidations can solve your financial problems
You can take a look at our debt solution page and determine whether the information provided on debt consolidation loans which are only one of the options in a range of debt solutions that we offer is appropriate in terms of your particular needs
Please be advised that Beyond Debt is by no means a lender. We do not provide Debt consolidation loans but we are able to assess the suitability of several debt solutions for individuals that are experiencing difficulties with their debts.
This is how it works
We strive to assist individuals to be set free of debt. Beyond Debt is contacted by thousands of people for advice and assistance with debts. We are able to assist you by combining all your personal loan and credit card repayments into one manageable repayment and in the majority cases you will be able to save thousands compared to your current circumstances and the best thing of all is that we can assist and not put you into any more debt than you already are
Your responsibilities
Beyond Debt can only present you with accurate information if you furnish us with the correct information about your circumstances. A lot of individuals try and paint a pretty picture and are not honest in what trouble the really are in, to be truthful, we don't care if you have a court judgement or bad credit if you're behind or have 30 credit cards. It really doesn't affect what we are able to do to help you so in order for us to do our best we need to know about everything.
Eligibility
Should you have a regular income and you are able to make regular repayments on your debts (which will definitely be less than you are currently paying) and you haven't been bankrupt in the last 10 years, we are able to assist you once you complete the online loan application process.
Early settlement
Give us a call to discuss what it means to settle earlier, our products are interest-free so frequently we don't advise to settle sooner than agreed. Depending on your situation accruing savings for a house or making extra payments may be the better option for you.
You can take the first step by contacting Beyond Debt either telephonically, web chat or simply submit a contact form and we will give you a call. One of our expert Debt Consultants will take the time to assist you and work with you to find a solution to your debt problem (they get paid by the hour so they really take the time to listen!) our consultant will assess your situation and discuss your income and expenses as well as your debts and advise on a solution.
You don't need to take time out of your busy schedule or arrange meetings because we take care of everything telephonically; a Personal Finance Manager will be assigned to you and will be your only point of contact throughout the process.
Customer Reviews & Testimonials
"
October 2018
As a whole I thought the service was nothing short of excellent.
Yannathan W
— Adelaide —
December 2018
I had to call customer care because I needed assistance with my debt consolidation loan application and I must say I was very happy with how well the consultant handled my call. She was kind and ...
Audrey B
— Sydney —
Beyond Debt Contact
Contact Number
E-Mail
Website
Physical Address
National Head Office, 57 Hayward Street

Stafford

QLD

4053

Australia
---
Postal Address
Beyond Debt Australia PO Box 3074, Newstead, 4006, Australia
Opening Hours
Monday

07:30 – 19:00

Tuesday

07:30 – 19:00

Wednesday

07:30 – 19:00

Thursday

07:30 – 19:00

Friday

07:30 – 19:30

Saturday

10:00 – 15:00

Sunday

10:00 – 15:00