Debt consolidation loans up to $100,000
Low-interest starting from 6.95%
Repayment up to 4 years
In-page navigation
---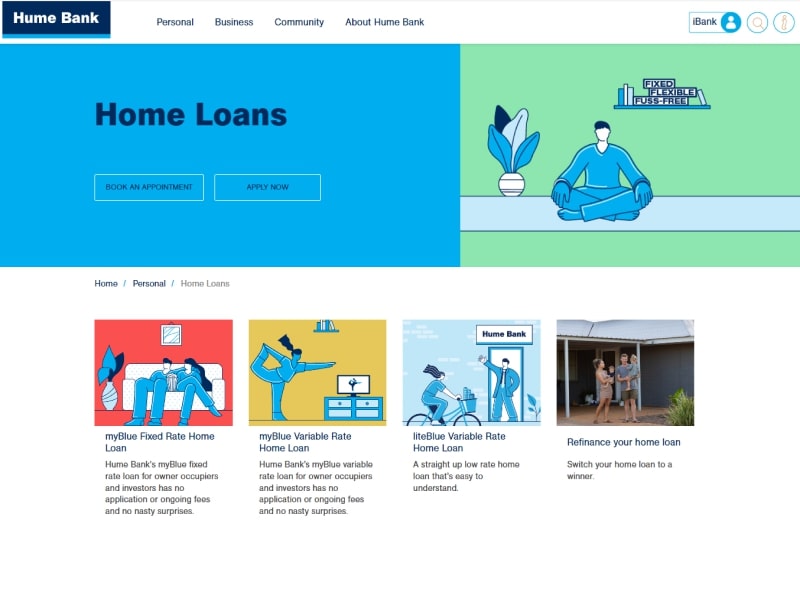 Author Hume Bank. Screenshot of Hume Bank website.


[Accessed April 7, 2021]
Hume Bank - You can become debt free
We were founded by a group of Albury residents and part of the Albury-Wodonga region for over 60 years. Residents were most dissatisfied with the availability of funds for housing and wanted to be of help for local people to purchase their own homes.
We provided a local alternative for housing finance, something that was becoming more and more challenging for potential homeowners to find because of governing restrictions. We were registered on the 4th of April 1955 as the Hume Co-operative Building & Investment Society Ltd. Mr Jim Russell was the Society's first secretary with only 3 staff members in the accounting firm offices at Dean St Albury, and by the end of 1955, we had 58 clients, with advances of 43 164 pounds and payments of 37 990 pounds.
Hume's company history
In 1969 Hume's name was shortened to Hume Permanent Building Society then in 1988 we became Hume Building Society. We moved our establishment to Olive St where it still does business from today, and this was after 16 years operating out of the Dean St Office. We are proud that after over 60 years of operation, we have an extensive branch and ATM network, we also have over 150 staff members in our employ plus we meet the needs of over 60 000 clients.
Debt consolidation loans
Take control of your finances by rolling all your accounts into one debt consolidation loan, it will increase your cash flow, plus you simply end up paying less interest on the whole.
Increase your cash flow
Needless to say that we do not answer to shareholders and that's because we don't have any! We are owned by our clients; the same individuals who enable our communities to be what they are.
It's this very significant aspect that ties us closer to the districts we serve but this is not the only difference we'll let you know. Hume's local knowledge and expertise are second-to-none. It's a true story that we are not like other banks and we plan to stay that way.
Why consolidate your debts?
Should you currently have several unsecured debts that are placed in small loans such as credit cards and/or store cards you could possibly make your debt easier and more manageable, on the whole, you could save on interest by consolidating all your debts into one loan account.
The most important benefit to debt consolidation is that, if you do it right from the beginning and in ideal circumstances your debt becomes easier to manage and you could possibly prevent yourself from being in a position where you would need to file for bankruptcy as this will more than likely affect your credit and ability to access credit as well as other products and services in the future.
By consolidating your debt into one personal loan you are able to save on some of your income since the total amount of your repayments will be lower and you will have a longer loan term meaning that you are able to use the extra amount saved on income for your daily living expenses and you will be in a position to budget.
Hume Bank – Consolidation loan
Loan Type

Debt consolidation loans

Interest Rate

from 6.95%

Loan Amount

up to $100,000

Repayment

6 months to 4 years
Benefits of Hume Bank
Increase your cashflow
Repair your credit score
Expert debt consolidation
---
Hume Bank - We have an award-winning personal loan
With our award-winning personal loan, we'll get you there in no time at all, whether it's for that family holiday you've been waiting for or perhaps the vehicle finance for that new car you have been dreaming about.
Hume Bank has been awarded the 2017 Mozo Experts Choice Personal Loan Award by Mozo and has been recognised as outstanding products with great value. We'll get you into gear with our low fixed rates and free online redraw, all you need to do apply online or give us a call today on1300 004 863.
Types of loans
Secured -The majority of people who have decided on a debt consolidation loan will do so by using a secured loan because it affords them a much lower interest rate and assists them to save on debt payments. If you are a homeowner the equity is the most common form of security for a debt consolidation loan.
Unsecured – For those who do not own a home or any other form of acceptable security are able to apply for an unsecured loan although it's not as common as a secured loan. An unsecured loan is riskier than that of a secured loan and the interest rate is much higher.
Benefits and choices
You can apply for a loan online with Hume bank. There are no monthly fees and no charges for early settlement plus we offer free online redraw on extra repayments.
You can choose if you would prefer to make repayments weekly monthly or every fortnight, repayments can be settled between one and five years.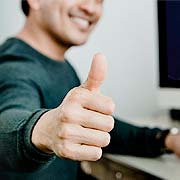 Hume Bank is a trusted & reliable provider of debt consolidation loans
In our review, Hume Bank adheres to the compliance criteria in accordance with the National Consumer Credit Protection Act 2009, where the granting the loan will not cause financial distress to the consumer.
Hume Bank is a registered credit provider in Australia: ACL 244248
Customer Reviews & Testimonials
"
March 2019
Hume Bank's service gives you that personal touch which I found to be so impressive. It's really hard to find a bank that sees you as a real person these days but Hume is the exception.
Benjamin F
— Sydney —
February 2019
Hume's flexibility is what makes them stand out for me. I like that they paid attention to what I needed, looked at my circumstances, then offered me a consolidation loan that is suitable. I will...
Oscar C
— Adelaide —
September 2018
The online application simplified things for me because I managed to apply without needing to leave my house.
Paige S
— Brisbane —
January 2019
I loved how supportive and understanding Hume Bank was.
Ayla T
— Perth —
Hume Bank Contact
Contact Number
E-Mail
Website
Physical Address
76 Reid St

Wangaratta

VIC

3677

Australia
Opening Hours
Monday

09:00 – 17:00

Tuesday

09:00 – 17:00

Wednesday

09:00 – 17:00

Thursday

09:00 – 17:00

Friday

09:00 – 17:00

Saturday

09:30 – 12:00

Sunday

– Closed