Debt consolidation loans up to $50,000
Low-interest starting from 8.95%
Repayment up to 7 years
In-page navigation
---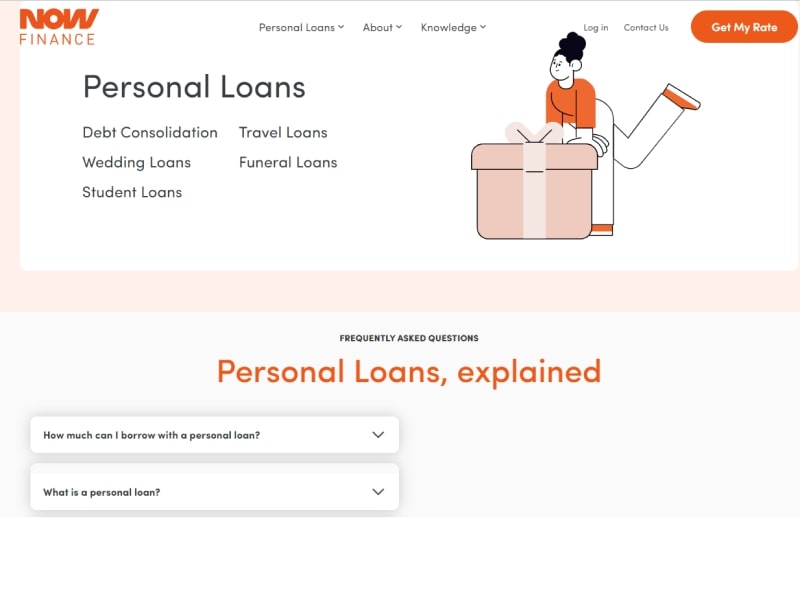 Author Now Finance. Screenshot of Now Finance website.


[Accessed April 7, 2021]
Now Finance - Reliable debt consolidation options
We focus on delivering the right personal loan and offer outstanding services to our clients that are seeking debt consolidation solutions to their financial needs.
We are based in Melbourne and accommodate satellite offices in Sydney, Perth, and Brisbane. We are an Australian owned finance company; we serve clients across all the states and districts.
We give a personal touch
Now Finance believes in that personal touch and our approach is to do everything in our power to assist clients that require a personal loan.
We are about providing all our clients with a personal level of service. We see you as somebody and not just another number. A personal advisor is assigned to each client so from day one you will deal with the same advisor during your application process.
We have a hassle-free application process
Now finance loves that things are kept straightforward and hassle-free, from the application process, repayment period from queries about your account to assist with wider financial difficulties, we will be here to assist in reducing your financial stress and help you move forward.
We offer flexible quick loans to clients, so should you be looking for debt consolidation, travel, home improvement, medical or vehicle purchase, we are able to assist you.
We can help you become debt-free
Our management team is made up of finance executives with years of experience across Australia servicing satellite offices in Brisbane, Perth, and Sydney.
We are also a branch of Wingate, who, a finance and investment house, and specialises in global equities, private equity, consumer and property finance.
Our principles
We always lend an ear to our clients and work hard at meeting their needs because our clients define us, Uncomplicatedness is at the heart of what we do and we emphasise on what matters the most, plus we take pride in everything we do because our clients always come first. Now Finance takes a stand and is always making a way for improvement. Honesty is central to whatever we do.
Why choose us Now Finance?
We deliver a variety of flexible debt consolidation loans intended to suit your needs, our interest rates on repayments are competitive and flexible, each application is given personal attention and assessed individually by a consultant, we provide credibility as well as a viable solution to make budgeting easier, our clients have up to eighty-four months to repay their personal loans, you have access to your very own advisor (Australian based) for your personal loan, we are an industry-leading concern that offers personalised services that are tailor-made to suit our client's needs, our technology allows an efficient 4-step process and you can choose to pay between 18 months and 7 years for repayments.
Now Finance – Consolidation loan
Loan Type

Debt consolidation loans

Interest Rate

8.95 – 16.95% p/a

Loan Amount

up to $50,000

Repayment

18 months to 7 years
Benefits of Now Finance
Simple online applications
Choose between loan options
---
Now Finance - Take control over your finances
Take control of your finances and give yourself some breathing space
The golden rule behind debt consolidation is easy. It simply means you consolidate all your debts/loans into one debt consolidation loan, so you only have one regular payment instead of paying a multitude of accounts, managing multiple debts can sometimes be very tiresome and stressful; it's for this reason Now Finance provides you with the option to consolidate all of your accounts into one easy payment, you can choose to make repayments by monthly, weekly or every fortnight.
Our clients enjoy the flexibility on payment options with our debt consolidated loans, plus it simplifies the management of their accounts. Should you want to consolidate your credit cards, personal loan and any other debts such as store accounts? Now finance can assist and is your solution.
Your benefits include
Your own personal loan specialist will be available and of assistance through the process of settling your other debts. You can potentially consolidate multiple accounts, one regular payment with a fixed amount, and a fixed rate for the lifespan of the loan plus the ending date of settlement.
Eligibility criteria
All applicants need to meet the following criteria for a personal loan with Now Finance:
You must be 18 years or older, you need to be an Australian Citizen or a permanent resident 457 Visa excluded, you will need to be employed; full time, part time, self-employed, (duration of more than one year) or a casual position (duration of more than one year) there are to be no defaults (paid or unpaid) you may not have a court judgement of being bankrupt and Centrelink proceeds will be considered conjunction with PAYG income. You should also not be undergoing debt counselling.
The required amount of the loan should be between $5,000 and $40,000, the required time frame to settle the loan is between 18 and 48 months, joint applications will not be accepted, the only single borrower will be considered, acceptable identification such as current Medicare card, current Australian drivers licence or an Australian Passport current or expired within the last 24 months.
To make sure that you have a smooth sailing process, you could perhaps think of having the following documentation readily available:
You identity document front and back as the one used in your application, proof of income as well as proof of your employment, proof of your expenses such as overdrafts, credit cards and store accounts, proof of residence, details of your mortgage payments and or rental payments.
Customer Reviews & Testimonials
"
July 2018
Now Finance gave me the convenience and space I needed to be able to tackle my debts head on.
Alex H
— Melbourne —
October 2018
The quick online application made the process faster and less complicated. This was also aided by the loan advisor who guided me throughout the whole process.
Zoey A
— Sydney —
Now Finance Contact
Contact Number
E-Mail
Website
Opening Hours
Monday

08:00 – 20:00

Tuesday

08:00 – 20:00

Wednesday

08:00 – 20:00

Thursday

08:00 – 20:00

Friday

08:00 – 20:00

Saturday

– Closed

Sunday

– Closed