Free debt assessment
Fast debt solutions
Apply online TODAY
In-page navigation
---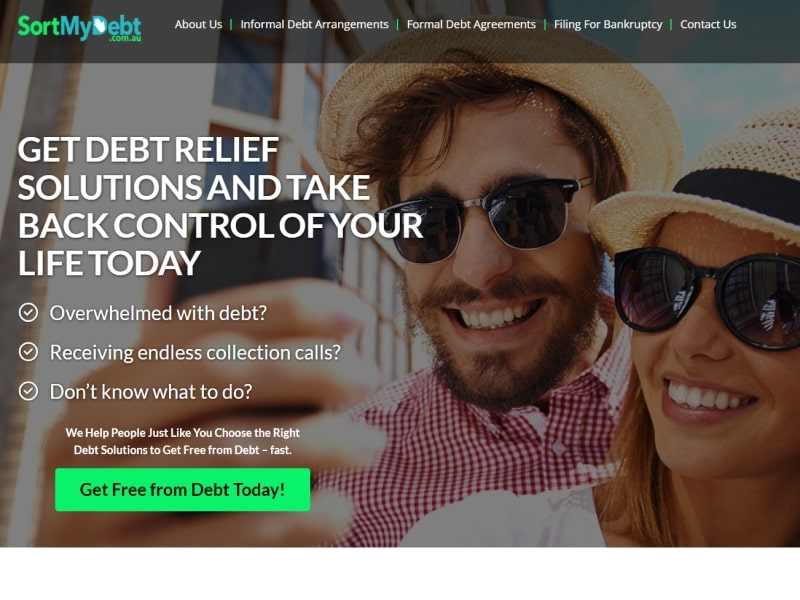 Author Sort My Debt. Screenshot of Sort My Debt website.


[Accessed April 7, 2021]
Sort My Debt - Let the experts help you
We understand that facing debts like credit card balances and loans is very overwhelming and feel that there is little hope when you are unable to repay them all.
All those annoying collection calls and threating letters don't help at all when we fell like we're drowning. When we face these sorts of situations one feels that there is no way out, we get this. Contact one of our consultants today, there are no fees and you are not under obligation.
Get free from debt today!
Some people may have heard about bankruptcy, but are too ashamed to explore that option because it seems like admitting defeat. Maybe you have started exploring alternative debt solutions like a debt consolidation loan, but then again there's so much information out there, and how could you know which one is right for you? Just trying to wrap your head around that is more than enough stress as being in debt itself.
We can help you with your debt problems
You are able to get out of debt and start afresh and the good news is, we can help with advice, counselling and debt consolidation solutions.
We realise it's difficult to admit that you need help, we also realise that just getting to know all the debt option available to you is just as hard. At Sort My Debt we are able to assist you in choosing the right debt solution, one that is right for you, one that will suit your affordability and needs.
Make the choice to become debt free
Our experienced consultants will assist you, answer all your questions with ease and offer the best solution according to your situation – so you will know that you are making the right choice and free yourself from debt. We will do all the paperwork for you liaise with your creditors and you won't need to worry about all the Nitti Gritty. So make that choice today, we want you to feel at ease.
Sort My Debt – Consolidation loan
Loan Type

Debt consolidation loans
Benefits of Sort My Debt
Simple online applications
Get out of debt
Free debt assessments
---
Sort My Debt - its not too late to become debt free
Just imagine the relief once you've taken the first step toward being debt free, that fresh start and the peace of mind that you will feel, not to mention the confidence you'll feel at the start of taking back your life and being in control of your money.
Tell us about your debts
What kind of debt are you in and how much do you owe, talk to us so that we can assist you in choosing a debt solution that is best suited for your requirements.
Sort My Debt will guide you through the process and we will inform you of the options you have the advantages as well as the disadvantages, review debt consolidation and recommend which option is best; together we will explore your options and come up with a solution as to which option is best for you.
Credit cards - We can assist you by freezing or eliminating your credit cards.
Personal loans - We can assist in lowering your monthly payments and reducing your interest.
Utilities - We can assist by keeping the power on your phones connected even when you are falling behind in payment.
Mortgage - Are you worried about losing your home? Perhaps there is a way to reduce your payments without you needing to sell your home.
Past due payments - We can assist in making your payments affordable again by reducing your penalties and lowering your interest rates.
Tax debt - Are you still indebted to the Australian Tax Office? Let Sort My debt help you to pay them back.
Informal arrangements
Bankruptcy and formal debt agreements do offer quite a few benefits, but on the other hand, they do have their disadvantages such as public records which affect your credit rating or job opportunity's if you are thinking about some job hunting.
At times your financial difficulties are only short-term, so by limiting your income or jeopardising the loss of your assets is not such a good idea. If you are able to re-negotiate your repayment schedule have your interest frozen for a short time, you should be in a position to get things back on track financially.
In situations like this, Informal Arrangement is a debt relief option that will offer you many of the benefits of a Formal Arrangement without the public records or financial restrictions
In cases like these, Informal Arrangements are a debt relief option that offers many of the benefits of formal options without the same public records or financial restrictions.
Formal debt agreements
A bankruptcy alternative is a Formal Debt Agreement that allows you to settle your debts by making a flexible and affordable payment over an agreed period of time.
Similar to Bankruptcy, Formal Debt Agreements are not long or short term loans, but merely an arrangement made between you and your creditors so that you can comfortably pay off your debts, and just as in Bankruptcy it can assist you in being debt free without needing to pay back the entire amount owed.
Should you qualify for a Formal Debt Agreement, it offers a much more flexible alternative that won't remain on your credit report forever plus you won't need to sell your assets.
Filing for bankruptcy
When the collection calls are coming in because your bills are piling up and you feel there is no way out because you are unable to keep up with payment's while you are still trying to cover your daily living expenses, filing for Bankruptcy could off you a fresh start.
The minute you file for bankruptcy, you give up all control of your finances and assets for a certain period of time. This is a legal process that can be declared once you are insolvent, and this means you are no longer able to pay your debts when they are due.
Bankruptcy protects you from legal action from your creditors because you have new arrangements in place that gives you the affordability to settle your debts.
Customer Reviews & Testimonials
"
November 2018
All I can say is that they are called Sort My Debt for a reason. Because of them, I have a better hold over my finances and I'm managing my debts so much better.
Owen G
— Canberra —
January 2019
My credit score has improved and it's all thanks to you guys for providing me with a tailor-made loan that made it easier to pay off my debts.
Jasper W
— Sydney —
Sort My Debt Contact
Contact Number
E-Mail
Website
Physical Address
10/7F Parkes St

Parramatta

NSW

2150

Australia
Opening Hours
Monday

08:30 – 20:30

Tuesday

08:30 – 20:30

Wednesday

08:30 – 17:00

Thursday

08:30 – 20:30

Friday

08:30 – 16:00

Saturday

10:00 – 14:00

Sunday

– Closed