Payday loans up to $4,500
Low rates
Repayment up to 12 months
In-page navigation
---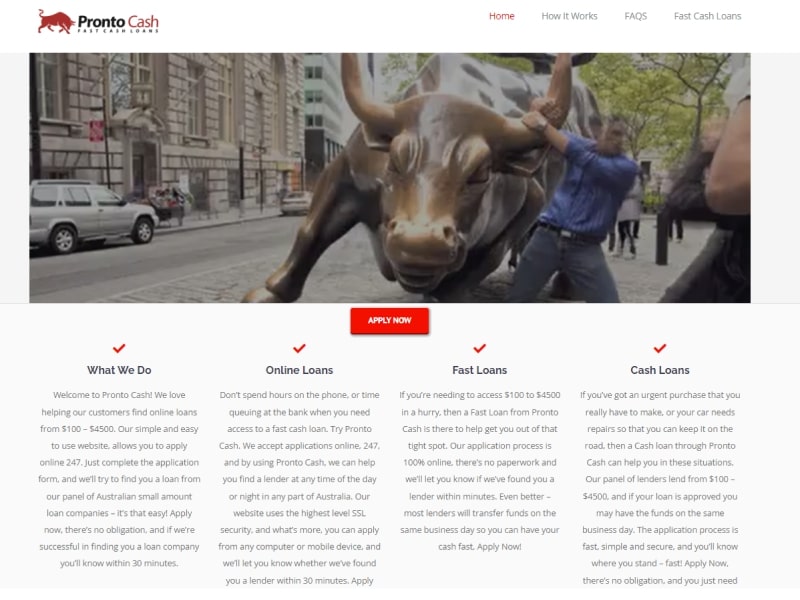 Author Pronto Cash. Screenshot of Pronto Cash website.


[Accessed April 7, 2021]
Pronto Cash - Fast paying payday loans
Pronto Cash is not your ordinary payday loan. While many creditors expect you to pay your payday loan on the day you receive your income, Pronto Cash is in no hurry.
We are constantly urging our clients to pay according to relative periods that may be affordable for them and their financial needs.
Assists in finding you the right lender
While there are so many lenders available in Australia, not all of them have your interest at heart. That said, Pronto Cash helps you get a lender that you can afford, trust and rely on. There are so many lenders, but not all of them want to help clients according to their personal loan needs.
In as much as a client may need money urgently, they also have to consider their pocket before they accept the terms and conditions they will not be able to fulfil. Further to that, a lender has to give a client only a certain portion of the money. Having said that, they shouldn't loan clients more than they can afford.
By doing that, they will be prolonging the process of being paid in time by customers. The only initiative behind being a lender is getting your money on the right date so that you can trust your clients and hopefully work with them in the future again.
Payday loans up to $1,000
Clients can apply for a loan at Pronto Cash online and our services are available 24/7.
Paying off an emergency loan in one go may be quite costly, especially since there are interests that also have to be taken not consideration. Being able to pay off your payday loan in monthly instalments is a cost-effective decision for every client.
Criteria
In order to qualify for a quick loan, clients need to be over the age of 18 years, be Australian citizen and have an active email address as well as a working banking account.
Lender selection
After you have uploaded your details on the website, a lender will choose your profile according to the details they see. Further to that, you will be required to supply the lenders with more information regarding your income.
It is important that clients understand that although a lender may have chosen their profile, this doesn't automatically mean their payday loan application. However, there have been rare cases where a client has been rejected after being selected.
Pronto Cash – Payday loan
Loan Type

Payday loans

Loan Amount

up to $4,500

Repayment

7 months to 12 months
Benefits of Pronto Cash
Fast online loan applications
Get approved fast
Flexible repayment terms
Pronto Cash - convenient and reliable payday loans
The minimum short term loan amount a client can apply for ranges from $100 - $1000. The loan amount a customer gets should be aligned with their income and affordability scale.
It is of extreme importance that lenders don't give the customers more than they can afford to repay. This is because although a client is not able to repay off a big loan amount, they can still take the money if they were given. Therefore, lenders need to ensure they give clients what we call as "just enough" money to survive until payday. Essentially, the idea is for clients to pay for whatever it is they need to pay for at that current moment. They don't need money to cover all their bills. Most payday loans are for emergencies.
Online service
Pronto Cash is strictly an online service. With that said, there is no branch that clients can go to require Pronto Cash services. Everything is done online. When you look at it from a fast and convenient perspective, you will realize that everything is better online than having to go to a branch. Telephonic applications are also not permitted.
Loan status
After you have submitted the online loan application and have uploaded all the necessary documents, it generally takes about 30 minutes for us to verify your documents. If we have not replied in 30 minutes, please consider your application as unsuccessful. There could be a number of reasons why your loan application was rejected. Alternatively, you can apply after 21 days if you still want a loan at a later stage.
Repayments
After a lender has approved your loan application, they will send you an agreement of all your payment options as well as all your terms and conditions.
Non-payment
Should you fail to make payments in due course, ensure that you contact your lender immediately. If you don't, your lender will deem it as a skipped payment which will mean more bad reports for you. Nonetheless, you will still incur fees. The last thing you want is to have a bad credit record because of money you could have opted not to borrow. Always ensure that you will be able to pay off all your payday loans before putting your head on the block for a financial plan your budget can't commit to.
Complaints
As much as we aim for perfection, we know that we won't always execute our objectives accordingly. Therefore, we welcome all sense of criticism with optimism and we are willing to fix our cracked areas with a smile. Clients are more than welcome to show us what we are doing wrong so that we can learn and strive to do better.
No liability
Although the lenders will be working via Pronto Cash, we will not be held accountable for any terms and conditions that you may have with your preferred lender. Every agreement is between the client and the lender.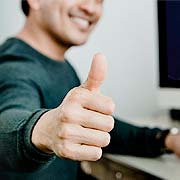 Pronto Cash is a trusted & reliable provider of payday loans
In our review, Pronto Cash adheres to the compliance criteria in accordance with the National Consumer Credit Protection Act 2009, where the granting the loan will not cause financial distress to the consumer.
Pronto Cash is a registered credit provider in Australia: ACL 461533
Customer Reviews & Testimonials
"
Great service and you have peace of mind from stress when you apply for a loan through pronto.
Tayla B
— Perth —
We waited once completing our application for about five minutes when we received our call to let us know that we have been approved. We could not be happier
Harper L
— Perth —
They really care about you and they want to help you and we recommend them as my wife and I got great help when we needed a loan for a few short days.
John C
— Melbourne —
Pronto Cash Contact
Contact Number
E-Mail
Website
Physical Address
Suite 14/50 Ross St

Toorak

VIC

3142

Australia
Opening Hours
Monday

09:00 – 17:00

Tuesday

09:00 – 17:00

Wednesday

09:00 – 17:00

Thursday

09:00 – 17:00

Friday

10:00 – 16:00

Saturday

– Closed

Sunday

– ppClosed