Payday loans up to $5,000
Low-interest starting from 48%
Repayment up to 12 months
In-page navigation
---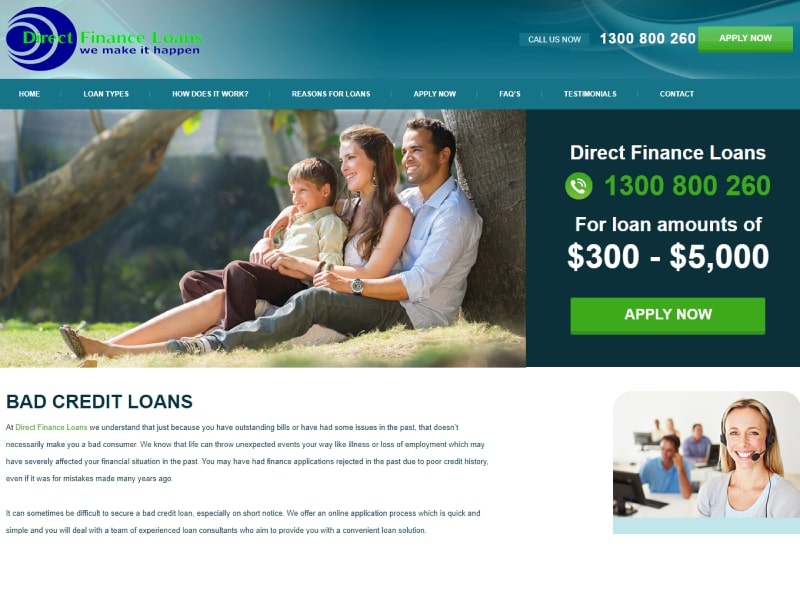 Author Direct Finance. Screenshot of Direct Finance website.


[Accessed April 7, 2021]
Direct Finance Loans - loan experts
Direct Finance Loans has implemented the easiest steps of applying for credit. We have ensured that Australians know where to turn to in their hour of need.
Being a lender of choice, we aim to provide a service that will put clients at financial ease. Some months are hard to get by and as a result, there may be bills that are overdue and unpaid due to having more than enough on your plate.
Fixed rates
Seeing that you have taken a payday loan, the last thing you need as a client is volatile rates. How else will you, will you be able to budget when the fees keep changing? We have ensured that we keep everything at a constant and documented rate.
No hidden fees
We are not fans of surprises that involve money unless the cash is a surplus to use. Now ask yourself, why would we give you shocking surprises when we are not exactly fans either? Everything that you sign for at Direct Finance Loans is transparent, clear and documented.
Upon agreeing to the terms and conditions, we ensure that our clients are well aware of the financial obligation they are about to enter into. This way, all parties are protected and understand each role they play into paying the personal loan.
Quick online loan application
Clients that are interested in our loan options will have to fill in an online application form. The application form won't take five minutes to complete.
We want to take care of all the financial anxiety that you have for a number of reasons. Firstly, being under a lot of stress can change every aspect of your life. Secondly, everyone needs a quick loan every now and again.
Supporting documents
After you have submitted your online emergency loan application form, you will be required to submit the following documents:
100 points of ID such as a drivers License, Bank Card, Credit Card, Passport or Birth Certificate. We are basically looking for any proof of identification that is in your name.
2 latest pay slips.
Last 90 days of your bank statements
A bill directed to your home address such as an electricity bill, car registration or your phone bill.
Approval
After we have received all the necessary documentation and we are happy with what we see, the payday loan will be ready and making its way to your bank account in no time.
Direct Finance – Payday loan
Loan Type

Payday loans

Interest Rate

from 48%

Loan Amount

up to $5,000

Repayment

1 month to 12 months
Benefits of Direct Finance
Loans pay out fast
Flexible loan terms
Simple loan applications
Direct Finance Loans - Fast payday advances
We don't have a problem with helping self-employed people with short-term loans. However, in order for the clients to qualify, they need to have a consistent payroll that comes in their bank account.
This means there has to be a consistent payment date that reflects as a payday on their account. Inconsistencies can be one of the reasons your loan gets rejected.
Making payments
Direct debit system: Most of our clients prefer this option because it is quick and easy. We set up a direct debit system that will be deducted on the agreed date of your loan.
Manually: Another option would be making manual payments via the bank.
Walk-in: Other clients prefer walking into the bank and making a direct deposit to our bank account.
Essentially, it doesn't matter which payment option you take as long as the money will be in the bank on the agreed date.
Repayments
In order to see how much you will be liable to pay as a client, you can use the loan calculator where you will see the amount and interests that will be charged on your payday loan plan.
Trouble repaying back the loan
If you have a problem with paying back the loan on the set date, you have to notify us in due course. If you don't tell us on time, we will deem it as a skipped payment and will have to take disciplinary measures against you. If you notify us on time, we may be able to block the payment debit but you will still be liable for penalties.
24/7 Service
At Direct Finance Loans, we don't sleep. We have a 24/7 service that will assist clients at any time of the day. The last thing we want is for our customers to think we are isolating them at a time when they need our services the most. Therefore, you can apply for a good or bad credit loan at any given time of the day and a consultant will reply to your application in no time.
Early loan repayment
Clients are more than welcome to repay their loan earlier than the expected date with no charges incurred.
Collecting personal information
The reason we require personal information is so that it is easier on our side to trace you when we require something that may be related to your online loan application. The information you give to us is for our database system only and nothing else. We will never give your information to anyone else. The only time we may disclose your personal information is when third parties request it.
Customer Reviews & Testimonials
"
I applied for my loan I needed to get away from my work and home and with a few minutes, I got my loan and was able to take that vacation I needed.
Ryan S
— Perth —
The application is super easy and the service is great.
Paige C
— Sydney —
The calculator really allows you to see the best way to pay for your loan off.
Sean M
— Brisbane —
Direct Finance Contact
Contact Number
E-Mail
Website