Payday loans up to $1,000
Low-interest starting from 48%
Repayment up to 30 days
In-page navigation
---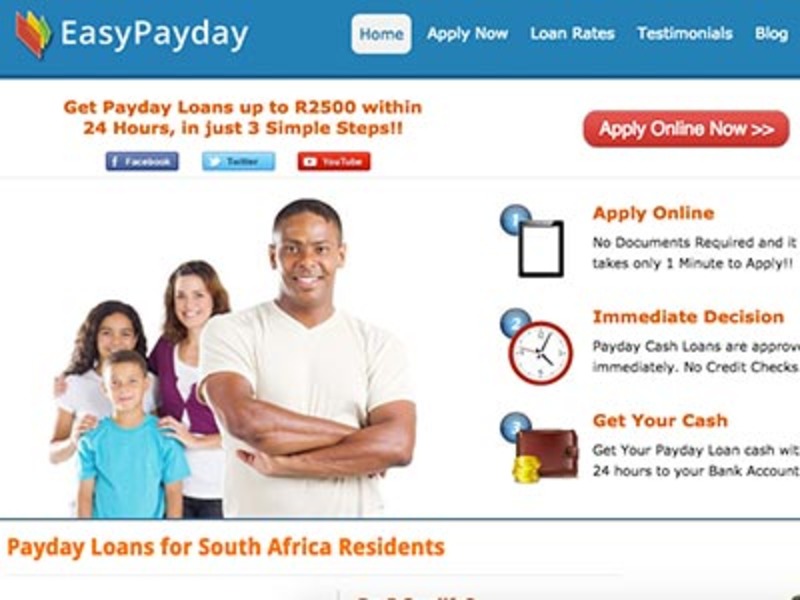 Author Easy Payday. Screenshot of Easy Payday website.


[Accessed April 7, 2021]
Easy Payday - Fast reliable loans
Easy Payday has been helping a number of customers with payday loans. We know how difficult it must be getting through the last few weeks before payday.
We don't want our clients to worry about challenges and that is why we have an online loan application that is convenient for everyone who is looking for financial assistance during a difficult time.
The loan application is strictly online
The online application is done electronically. This means that there is no paperwork that has to be submitted during the online application. All that is required from the customer to is fill in the application form and send it to us for our viewing.
Lending process is suitable and safe
Our quick cash loan process is one to be reckoned with. We will never give our clients more money than they actually deserve, we wouldn't be financially responsible if we did that. Instead, we loan our customers the exact amount of money they need so that they will not have any problem paying the loan back. Furthermore, each and everything we do is safe and without any worry. We are a registered credit provider and we do everything by the book.
Your very own finance consultants
Our staff range of qualified financial agents that go out of their way to ensure that every customer is well acquainted with our online loan services and what we offer. We will never leave you in the dark, we want you to know every detail and familiarize yourself with our loan options.
Loan amounts up to $1000
The first thing that clients can do is to apply for a credit advance. This can be completed via an online application form. Once you have submitted your loan application form, we will contact you for the next step.
The second step is submitting your documents. If you don't submit your documents, we will not be able to determine your affordability and how much your expenses are on a monthly basis.
The money will be deposited in your account
Prior to depositing money in your bank account, the client needs to accept the contract agreement. If you don't accept the agreement, we will not be able to deposit money in your bank account.
Furthermore, clients need to ensure that they adhere to the terms and conditions before they can go ahead with the payday loan application.
How much can you borrow for your payday loan?
Clients can borrow an amount of $1000 and pay in 45 days. There is no problem with paying the money before your loan period ends. There will be no penalties liable to you and this will show us how committed you are to finish your payday loan.
Emergency situations can be sorted out
A payday loan has rescued a lot of people from challenges that seemed troublesome. With a short term loan, you don't have to worry about your problem anymore because having an advance will be able to deal with the problem for you.
Easy Payday – Payday loan
Loan Type

Payday loans

Interest Rate

from 48%

Loan Amount

up to $1,000

Repayment

7 days to 30 days
Benefits of Easy Payday
PAYDAY Loan
SHORT-TERM Loans
QUICK CASH Loans
PERSONAL Loans
UNSECURED Loans
SALARY Advance Loans
ONLINE Loans
Easy Payday - our loans are affordable
Clients can apply for an emergency loan as low as $50. It is important that customers are not tempted into taking big amounts of money simply because they afford them. It is very important that clients only borrow what they need as opposed to taking more than they need.
What can you use the payday loan for?
You might want to fix your car, or you need new tyres
Maybe you need urgent medical attention
There are important guests coming over and you don't have enough groceries to accommodate them
You might want to go on holiday and you need to make some last-minute preparations
You might just need money to ensure that getting through the month is bearable
What if you struggling to pay back the loan?
If you struggle to pay back the payday loan on time, please inform us as soon as possible. Don't wait until you skip one month before you notify us. You will be liable for penalties but if you have notified us in time, there might be something we might be able to do. Financial hardship can happen to anyone and we know that nobody is perfect.
Customer Reviews & Testimonials
"
We got the help we needed when we applied for a loan, great service and the staff and very helpful and understanding.
Martin B
— Sydney —
I got my loan love the service at the company they exactly what you are needing and how to ass
Julene D
— Perth —
I got my loan and would just like to say thank you to this fabulous company they come highly recommended in my eyes.
Joan B
— Brisbane —
Easy Payday Contact
Contact Number
E-Mail
Website