Credit cards starting from $1,000
Reliable credit cards
Low-interest starting from 21.49%
In-page navigation
---
Author ANZ. Screenshot of ANZ website.


[Accessed April 12, 2018]
ANZ - Take control over your finances
It sometimes gets tough trying to keep a record of your credit card repayments especially when they are split over more than one card.
With an ANZ credit card account, you can get back into control by transferring your non-ANZ credit and store card remaining balances to your ANZ credit card account. It makes it more manageable to have only one regular consolidated account. This works as a means to consolidate your debt and make your life easier.
We have put together a few examples:
The ANZ Corporate Card – This option is a suitable manner to manage your businesses travel and entertainment expenditures. It also allows you to pay for high volume and low-value transaction, like stationery items.
The Features and benefits of the ANZ Corporate Card are that it offers a broad acceptance Visa which is accepted in many more places around the world than that of any other type of credit card, it assists in eliminating personal repayments and also a allows for great control of disbursements.
It's a good way of organising reporting transactions and makes it more manageable your relationship with your key suppliers, you also able to monitor policy agreements and negotiate rates.
ANZ Corporate Cards - This credit card has flexibility with its variety of controls such as spending limits, cash advance limits that are assigned to personal cardholders.
Many options to choose from
Why not earn flexible reward points with ANZ, we offer a wide range of rewards that include cash-backs, merchandise, and gift cards, plus we offer flexibility on your everyday purchases
ANZ Rewards Travel Adventures – This credit card will get you travelling sooner than you think. Spend $500 on suitable acquisitions within the first three months and receive a return domestic flight which also consists of two single lounge passes. It offers a flexible rewards program as well as free insurance.
ANZ Rewards Platinum credit card - Be rewarded with 65 000 bonus points and $50 when making an eligible purchase within the first three months on your new ANZ Platinum credit card. You could also be rewarded for your everyday purchases and have access to personal concierge and complimentary insurance.
ANZ Rewards Travel Adventures Visa card - Spend $2000 or more on suitable purchases per period statement and earn $1 reward points per statement period.
ANZ Rewards Back credit card – You could receive 75 000 reward points. This Credit Card option is more than likely our highest reward points earnings card, enjoy the uncapped flexible rewards plus you have access to a lot of privileges as well as enjoyable events. You also receive $100 back on every suitable purchase within the first three months
ANZ Rewards – Enjoy the flexibility on your everyday purchases and redeem points and be rewarded on a range rewards from cash-backs to gift cards, you could receive 25 000 bonus points when you purchase any eligible item within the first three months.
Inconvenience Insurance – Depending on which city you are flying from, you could have peace of mind with our Flight Inconvenience Insurance whilst travelling interstate in Australia on holidays for a period of 14 days.
Rental Excess Cover – This Option allows you to reduce excess when hiring a vehicle from any major Australian car rental company, no extra costs will be charged.
Enjoy the convenience of 36 million locations worldwide, you can earn Qantas points when purchasing something eligible using your ANZ Frequent Flyer Black card. There is also no cap to the number of Qantas points you are able to earn with this card.
ANZ – Credit card
Loan Type

Credit cards

Interest Rate

21.49 – 21.74% p/a

Loan Amount

from $1,000
Benefits of ANZ
Earn rewards as you spend
Travel rewards
Complimentary

insurance
Low rate

credit cards
---
ANZ - Affordable credit cards
Enjoy the convenience of 36 million locations worldwide, you can earn Qantas points when purchasing something eligible using your ANZ Frequent Flyer Black card. There is also no cap to the number of Qantas points you are able to earn with this card.
Low Fee credit cards
This is the way to go if you want simple, we have credit cards that offer a low on-going yearly fee for you.
ANZ Platinum ANZ First – This card offer overseas Travel as well as Medical Insurance, you can use this credit card daily with zero annual fees for the first year.
ANZ First – This card offers the lowest annual fee, you also receive complimentary purchase security insurance for a period of 90 days with extended warranty insurance on all your purchases and all the benefits that the ANZ credit card offers this a simple credit card that you can use daily and the on-going fees are low.
Eligibility
In order to apply for a loan or credit card you will need to be 18 years or older, a good credit rating is essential, you need to be a permanent resident in Australia with a minimum income of $35 000 per year, a non-Australian permanent resident earning a minimum income of $35 000 and should have more than 9 months remaining on your visa.
Details to have handy
Should you be self-employed, you'll need to provide your accounts phone number, your two most recent pay slips for proof of income, details of income, assets, and liabilities and your Australian driver's license if you should have one.
Easy ways to bank
Do your banking on the go with our ANZ app, it will make your every day a little bit easier, you are also able to use your compatible smartphone or even your wearable device to tap and pay with your ANZ card, this allows you to get the same benefits and security, or make use of our Smart ATM's, ANZ Internet Banking or phone banking.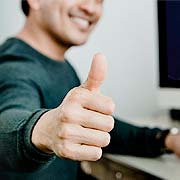 ANZ is a trusted & reliable provider of credit cards
In our review, ANZ adheres to the compliance criteria in accordance with the National Consumer Credit Protection Act 2009, where the granting the loan will not cause financial distress to the consumer.
ANZ is a registered credit provider in Australia: ACL 234708
Customer Reviews & Testimonials
"
Very easy and fast online application. I was approved for a credit card the same day! I've had my card now for 6 months and haven't had any problems so far.
Kevin R
— Melbourne —
ANZ really offers a variety of credit card options for people from all walks of life. Very reasonable and affordable fees and low-interest rates which is exactly what we could all use!
Abigail W
— Hobary —
Cannot praise ANZ enough! I am a very satisfied customer.
Benny P
— Cairns —
I was skeptical at first since the offer seemed so unreal, but was utterly surprised when ANZ lived up to all that they promised! I have told everyone about their products and recommend they look...
Connor T
— Melbourne —
ANZ Contact
Contact Number
E-Mail
Website
Physical Address
34 High St

Kimba

SA

5641

Australia
Opening Hours
Monday

11:00 – 15:00

Tuesday

11:00 – 15:00

Wednesday

11:00 – 15:00

Thursday

11:00 – 15:00

Friday

11:00 – 15:00

Saturday

– Closed

Sunday

– Closed