Quick loans up to $15,000
Low-interest starting from 199.43%
Repayment up to 24 months
In-page navigation
---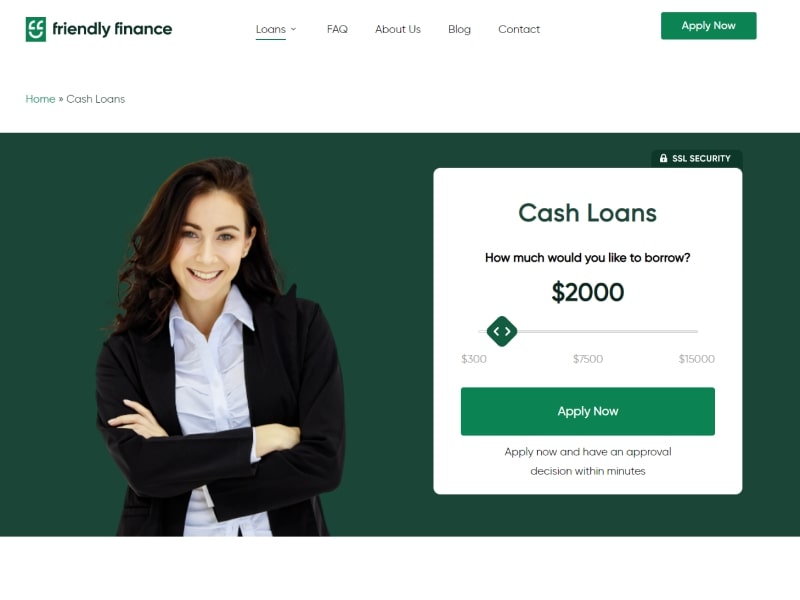 Author Friendly Finance. Screenshot of Friendly Finance website.


[Accessed April 6, 2021]
Friendly Finance - Financial solutions to meet your needs
We offer a helping hand in online finance. No matter what you are looking for we have the finance solution to suit your needs we analyze hundreds of different finance options to help find you the one you need and help you make the correct financial decision.
Our mission is to provide Australian citizens with information that they will need in order to make an informed decision. We aim to help you obtain a quick loan by using our connections to put you in touch with the right lender for you.
You only need to fill out one application and we apply on your behalf to our lenders to increase the chance of your loan application being approved.
Our experience is a great benefit
We have been in the financial industry for years and those years have helped us gain experience. We use this experience to best serve our clients.
We aren't called Friendly Finance for anything our staff are the friendliest in the business and our positive attitude and helpful advice will make sure that the online loan application is as stress-free as possible and that you have a smile on your face while your cash makes its way to your bank account.
Our vision
Our main vision for the future is to become Australia's number one trusted lender and one-stop shop for all financial information and knowledge. We plan to use our experience and pass on our knowledge to our lenders to better understand the need of our clients so that they can align their products to better suit these needs.
Let us find you the perfect loan
We provide financial knowledge and information about all financial products available and put you in touch with the lender that will be best for what you need.
The loan products include personal loans, cash loans, same day loans, cash advances, secured loans, unsecured loans and easy loans. We allow you too easily compare the difference between different lender products so that you can make an informed decision.
We believe in being transparent and will gladly translate any difficult financial terminology that you don't understand and make sure that the contract is straightforward and does not confuse you.
What do I need to qualify?
Depending on the loan that you apply for lenders might have slightly different requirements.
The requirements will be listed in your loan agreement but for all fast loans, you will need to comply with the following:
You need to be at least 18 years old
You must have a steady job and earn a minimum of $350 per week
These payments must reflect on your bank statement
If you receive benefits they can only be used to account for half of your income you must have some other source of income as well
You need to prove that you will be able to afford the loan.
If you are a student, on Centrelink benefits, a single parent or self-employed please let us know so that we can put you in touch with a lender that specialises in those types of short-term and emergency loans and have a better chance of your loan application being approved.
Friendly Finance – Quick loan
Loan Type

Quick loans

Interest Rate

from 199.43%

Loan Amount

up to $15,000

Repayment

2 weeks to 24 months
Benefits of Friendly Finance
Apply with any credit score
Flexible

loan amounts and terms
Quick

and easy loans online
Friendly Finance - Fast and convenient online loans
How will my credit score affect my short-term loan application?
What exactly is your credit score? And why is it so important? Your credit score is a score that you are given depending on many different financial factors.
If you pay your bills on time and have a good grip on your finances, you will have a good credit score. If you miss payments, dishonour direct debits or don't pay your bills on time this will cause your credit score to drop.
Each time you mismanage your finances this will reflect on your credit report. A lender will look at your credit history to determine if you are reliable at making payments.
Your credit score or VedaScore will range between (0 – 1200) according to your credit history
If your credit score is (0 – 509) you are seen as a high-risk client this score is below average and usually means that you have either been declared bankrupt or have a court judgment against you.
If your score is (510 – 621) you are seen as an average risk client. This score can mean that you have defaulted on a payment.
If your score is (622 – 725) this is seen as a good credit score and you are more likely to have your loan application approved. This usually means that you are good at paying your bills on time and won't be very risky to lend money to.
If your score is (726 -832) this is seen as a very good credit score. Your loan application will have an excellent chance of being approved.
If your score is (833 – 1200) then you have an excellent credit score. If your credit score is in this category your loan application will defiantly be approved and you may qualify for a discounted rate.
Most lenders want you to have a credit score of at least 600 or above to be approved for a quick loan. You are seen as a lower risk client and your application has a good chance of being approved.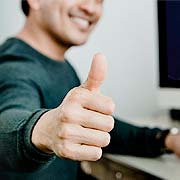 Friendly Finance is a trusted & reliable provider of quick loans
In our review, Friendly Finance adheres to the compliance criteria in accordance with the National Consumer Credit Protection Act 2009, where the granting the loan will not cause financial distress to the consumer.
Friendly Finance is a registered credit provider in Australia: ACL 487316
Customer Reviews & Testimonials
"
The name says it all! My bad credit was truly the bane of my existence but thanks to FF I was able to get it sorted out once and for all. Their loan helped me to cover my debts and improve my cre...
Stacy A
— Brisbane —
No challenge is too large for them to tackle! I wanted my loan terms to be as near to my financial needs as possible. Friendly Finance was able to provide me with exactly what I needed. Thanks fo...
Aaron H
— Buderim —
I found myself in the middle of a financial emergency. Thanks to the efficiency of Friendly Finance I was able to get the situation under control. Thanks for the same day payout!
James M
— Warwick —
Friendly Finance Contact
Contact Number
E-Mail
Website