Quick loans up to $5,000
Fast loan payouts
Repayment up to 12 months
In-page navigation
---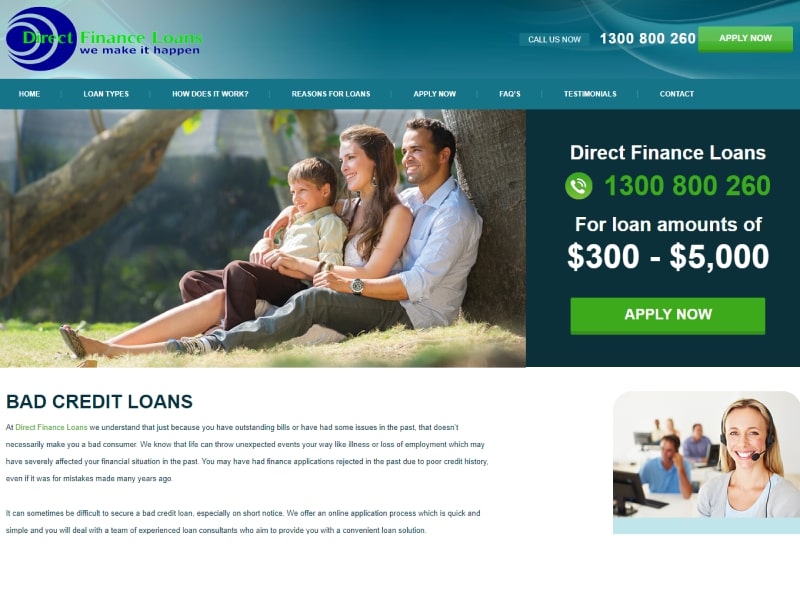 Author Direct Finance. Screenshot of Direct Finance website.


[Accessed April 6, 2021]
Direct Finance Loans - Easy and affordable
Direct finance loans aim to take the stress and hassle out of applying for a loan, we aim to provide quick financial solutions to meet your requirements.
Our payday loans range between $300 to as much as $5000 with easy repayment terms that line up with your salary payment frequency. To save you time and effort there is no need to come to one of our branches and to speak to one of our loan consultants in person instead the entire process can be completed online.
Receive your money within 2 hours
Each client has different requirements so we personalize your loan for your specific circumstances and needs. Our quick approval time means that you don't need to wait around to see if your loan application has been approved or not you will get your outcome within a few minutes of applying. The funds can be deposited into your account in as little as 2 hours after receiving your signed fast loan agreement. Our team of financial experts is standing by to take your call and answer any questions that you might have and to guide you every step of the way so please don't hesitate to give us a call.
Fixed interest rate
Our short term loans offer a competitive interest rate that is fixed for the duration of the loan agreement to make budgeting simple. There are no hidden costs or early termination fees.
Loans between $300 and $2,000
If you have a cellphone that can connect to the internet then you can apply directly from the comfort of your own home.
Simply log onto the website and fill in the online loan application form by providing your personal details. The application process only takes a few minutes to complete. It is 100% free to apply and all loans are obligation free in case you change your mind or just want to see how much you would qualify for.
What we offer
We offer a number of different financial solutions to suit your needs.
Our quick loans allow you to borrow between $300 and up to $2,000 for between 3 to 7 months. An unsecured loan is a loan that does not have collateral attached for security.
Quick cash loans
If you have an immediate cash flow problem and you need some quick cash in a hurry we offer emergency loans of between $300 to as much as $1000 which you have between 4 and 6 weeks to repay the loan.
These loans are great for those emergency circumstances or for when you need a little extra help to get back on your feet.
Direct Finance – Quick loan
Loan Type

Quick loans

Loan Amount

up to $5,000

Repayment

1 month to 12 months
Benefits of Direct Finance
Apply 100% online
Simple loan applications
Fast loan approvals
Direct Finance Loans - Secured and unsecured loans
We offer secured financial solutions that range between $2,200 and up to $5,000 with 12 months to repay the loan.
These quick loans are perfect for when you need a larger amount of cash to help pay for a wedding, put a deposit on a house or car or make other big purchases. These types of loans are also great for those that have a bad credit history or credit score because the loan is backed by collateral there is a greater chance of your loan application being approved. A secured loan can be backed by any item of value that is greater than the loan amount this can include your vehicle, your house, or boat or anything of value that exceeds the loan amount.
Payday loans
A payday loan is a loan that is granted for a small amount of money and that needs to be paid back in full by your next payday. Once your loan application has been approved we will have the funds paid directly into your account as quickly as possible normally within a few hours. You will never wait more than 24 hours to receive your payday loan.
What happens once I submit my loan application?
Once you have completed the online application by filling in your personal details, you will be sent an e-mail to confirm that we have received your loan application. Then one of our friendly consultants will contact you to let you know what supporting documents we require from you. You can apply for a loan via our online application system 24 hours a day.
How do I repay my loan?
We want to make repaying your personal loan as simple as possible we do this by arranging a direct debit on your account. The debit will be aligned with your payday so that you never miss a payment and for added convenience, we will send you a reminder the day before we do the deduction.
Credit checks
Direct Finance loans is a responsible lender and we do run a credit check on our clients, however, if you have a bad credit history then your application will not be automatically declined. Instead, we take into account your unique circumstances and judge each application on its individual merits.
Direct finance loans will never lend you more than you can comfortably afford to repay and if we determine that a bad credit loan is not in your best interest we will put you in touch with an independent financial counsellor to assist you.
Customer Reviews & Testimonials
"
With their fast online application, you will not be needing to head down to the bank. You will also save yourself on printing and signing documents because everything can be done online now!
Margret B
— Loxton —
Thanks to their nifty online software you can easily determine what the best repayment schedule will be to suit your current circumstances and financial situation.
Harriet M
— Darwin —
I was able to choose exactly when I want to make my repayment. In doing this I could influence how much I can repay and how often I wish to do so. It feels good to be in control of my financial f...
Jeremy S
— Adelaide —
DFL allows you to step into the future of loans with their streamlined lending process. Their new approach to finance is fully thanks to the advancements in technology. Thanks DFL for the innovat...
Mandy T
— Sydney —
Direct Finance Contact
Contact Number
E-Mail
Website