Quick loans up to $5,000
Low-interest starting from 25%
Repayment up to 365 days
In-page navigation
---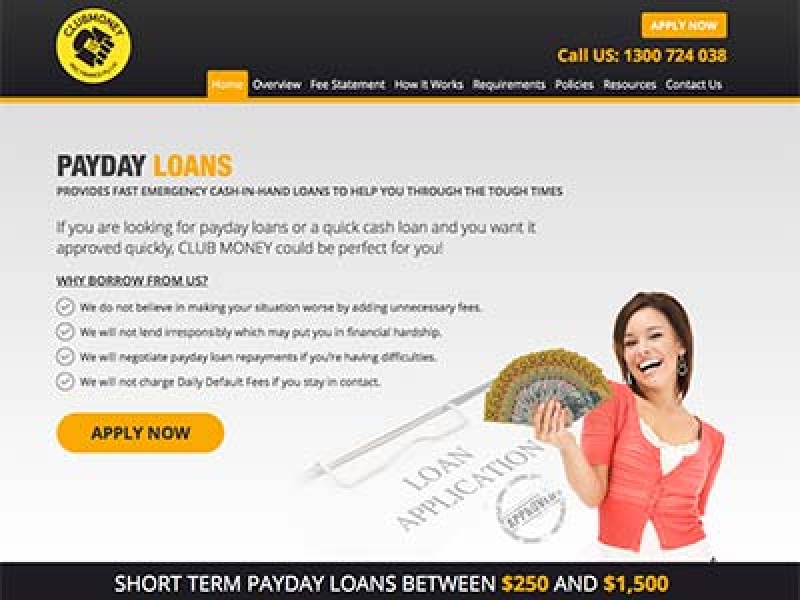 Author Club Money. Screenshot of Club Money website.


[Accessed April 6, 2021]
Club Money - Fast loan solutions
We recognise that at times Australians need cash and fast too. Should it be for car bill, Dr's visit or maybe a last minute weekend getaway?
We don't want you to wait for cash and that's why Club money is forever striving to provide you with a quick loan solution.
How fast is fast?
Complete an application in less than 5 minutes, during business hours it could literally take as little as 30 minutes and once your loan has been approved the cash should be in your account by the end of the day. However, it depends on your financial institution on the timeframe of transferring your funds, transfers to banks line Westpac, NAB or the Commonwealth Bank only takes two hours wherein transfer to smaller banks or credit unions could take up to two days, so it depends entirely which institution you are with.
Loan amounts
Short-term loans up to $5 000 do not require extensive documentation opposed to larger loans, so need to run around looking for misplaced or infrequently-used documents. Club money is aware of the fact that life happens at the best of times and to most of us, unexpectedly emergency's pop out of nowhere and in an instant, you are one massive stress ball. Our loans are hassle-free, no bank queues and long approval/transfer times.
Loans up to $5,000
Providing the information that you provide could possibly allow you to apply for a loan up to $5 000, you have entitled to use the cash any way you see fit.
You choose how a repayment period, which could be anything between 61 days and 12 months, you also don't need security for a fast loan. Club Money will assist you, no matter what your reason is for the loan!!
You choose online, or over the phone
Bear in mind that not all loans are quick and easy as the loans packages that Club Money offer! Some institutions have lengthy processes such as extensive credit checks and employment checks, after all this checking it could take days or weeks to have your loan approved and eventually have your cash transferred. We don't offer large personal loans, but our approval process is quick and easy as our speciality is that of bite-sized same day loans, perfect for streamlining our brief shortfalls in cash.
We will verify your information
The only thing we need to do is verify your identity and your ability to repay your loan on agreed times and ensuring that you are able to make regular payments, ensuring that your remuneration is at least $1000 per month. Plus, we offer payday loans that are easy! No extensive documentation and we offer loans up to $ 5000 it's as easy as that!
Club Money – Quick loan
Loan Type

Quick loans

Interest Rate

25 – 81.11% p/a

Loan Amount

up to $5,000

Repayment

61 days to 365 days
Benefits of Club Money
Fast loan applications
Low-interest rates
Flexible repayment terms
Club Money - Loan approvals within 30 minutes
Once your loan application has been received, we'll approve your loan in no time and ensure that the funds are available on the same day.
Don't let those expenses catch you
The power of the bad credit loan means that bills will be paid, school supplies bought and that washing machine that's been broken for ages will be fixed. Club Money will put your mind at ease within 30 minutes. Give Club Money a call today, you'll find that our same day loans are ideal for that bumpy road, that's life, we help you deal with it. Choose the way you would like to repay you're $5 000 loans, we are flexible and strive to meet the needs of our clients at all times.
Apply online with Club Money today; the cash will be released into your preferred bank account as early as today, and use the cash for whatever it is that you need, what's more before you wipe your eyes out the cash will be in your account and that is the magic of the same day loan!
A loan on your terms
At Club Money we strive to eliminate the stresses of life and situations that we sometimes find ourselves in, such as busy schedules, work, and family commitments can take up a lot of our time, so when you are short of funds it feels like the pressure is on, give Club Money a call today to arrange for an emergency loan. Under no circumstances do you need to see a pawnbroker and giving one of your prized valuables as security for a small amount of cash.
Basically, all you need to do is access our online application form or perhaps you would prefer to speak to one of our qualified consultants telephonically who is trained and willing to assist you with our fast loan.
Is bad credit history holding you back?
A bad credit rating can be a sure way of sending the bank manager running, so for some, it is not that straightforward to apply for a fast loan. Club Money is unique in this way, we do understand that a bad credit rating isn't always avoidable for some of us, job losses happen or perhaps you forgot to pay an account. Unfortunately, having a bad credit rating is a huge burden that we have to bear, a previous bankruptcy can follow you for seven years but perhaps circumstances have changed in the interim. But don't worry Club Money will give you the opportunity and look at the circumstances surrounded by a bad credit rating.
Customer Reviews & Testimonials
"
Getting a loan has never been simpler than with the great assistance of modern technology. Finance used to be a schlep but now that everything can be dealt with online I find it quite pleasant!
Mike P
— Broome —
I had a few questions that I needed to be answered prior to submitting my application. With a quick phone call, the lovely employees at Club Cash set the record straight and helped me to finalise...
Angela B
— Dubbo —
When it comes to being transparent Club Cash is doing a brilliant job. They show all of their fees on their website so there are no surprises at the end of the day.
Steven W
— Newcastle —
Club Cash is dedicated to providing the best treatment to the Aussie community as a whole. Whether it is by giving back via social responsibility programs or by providing the fairest financial de...
Doug S
— Albany —
Club Money Contact
Contact Number
E-Mail
Website
Physical Address
140 Bourke St

Melbourne

VIC

3000

Australia
Opening Hours
Monday

09:00 – 21:00

Tuesday

09:00 – 21:00

Wednesday

09:00 – 21:00

Thursday

09:00 – 21:00

Friday

09:00 – 21:00

Saturday

– Closed

Sunday

– Closed