Home loans up to $5,000,000
Low-interest starting from 1%
Repayment up to 30 years
In-page navigation
---
Author Aussie. Screenshot of Aussie website.


[Accessed April 12, 2018]
Aussie – Get your dream home
It so happened that the company started byways of finding the right home loan and a dream home for every Australian.
Back in the day, you would need to walk into the bank and hope that you would leave with a good rating, Australians weren't aware that they could do better, some Aussies accepted this but we were not going to take this laying down!
We get better deals on finance
So we confronted the banks to give Australia a better deal. Because when we believe in something we don't let it go. The banks weren't happy but as soon as the first bank broke ranks, the rest followed and so the home loans landscape in Australia changed forever.
Now day's we have over 1000 brokers that will stand by your side. Not only are they talented and experienced but they are also passionate and will share their collective vision and drive to secure the right deal for you.
Affordable home loans
Aussie will negotiate the right deal from the thousands of home loans to choose from, plus take care of all the Nitti gritty paperwork for you. So, call us today!
For over 25 years we've been helping hundreds of thousands of Australians to find the perfect home loan for the perfect home. It can be very difficult when you start searching for a home loan, but it so happens that you are in the right place when it comes to finding the perfect home loan. Aussie will be delighted to assist you.
Why you need a deposit
The key starting point for when you start looking for your first home is how much you are able to afford on your monthly repayments. This helps to determine the loan amount you are eligible for as well as the type of property you are able to afford. Other debts such as car loans and credit card balances should be taken into account.
100% loans typically no longer exist
It's unlikely that you will get a home loan for the full sum of the property purchase price. A lot of lenders will require a down payment of at 5% of the purchase price of the property. The balance of 95% may be financed using a home loan.
Aussie – Home loan
Loan Type

Home loans

Interest Rate

1 – 5.59% p/a

Loan Amount

up to $5,000,000

Repayment

25 years to 30 years
Benefits of Aussie
A transparent service with no hidden costs
Apply for a

home loan online, it's quick and easy
Quickly compare

home loans
Our loans have

low-interest rates
---
Aussie - we negotiate better interest rates
This places you in a better position to negotiate a lower interest rate because the larger the guarantee the less risk you present to lenders.
Avoid paying Lender's Mortgage Insurance
If at all possible try and so a down payment of 20% or more as this can allow you to avoid what's known as 'Lender's Mortgage Insurance' (LMI), because this protects the lender and not you, so if you are unable to make repayment on your loan it's a cost worth avoiding.
Pay less in the long run
The bigger your down payment the less you need to borrow. This means that your repayments will be lower, and you will pay less in interest over the lifespan of the loan. Our property finance repayment calculator will assist you in accessing how much you could save by having a larger deposit.
More loans to choose from
A bigger down payment could give you a wider choice of loans; this makes it easier to get a good or better deal on the right loan, allowing you to save even more in the long run. You can choose to apply through a mortgage broker or simply fill in an online loan application.
Financial support for first home buyers - getting the FHOG.
There is a chance that buyers might be eligible for a range of government grants and concessions that vary according to which state or territory you are buying.
The main source of financial support for first home buyers is a Grant (FHOG) which is a one-off, tax-free payment to people buying their first home in Australia, though state and territory governments hand out the FHOG on behalf of the Federal Government, it's worth checking how it works in your area.
Determine eligibility for the FHOG
In general, the main conditions that determine eligibility for the FHOG are set out below. You need to be a permanent resident of Australia, building or buying your first home in Australia. The property you purchase essentially needs to be a recognised house, flat or unit specifically intended for people to live in.
Either you or your partner would have had to have purchased in Australia previously. The home must be occupied within a period of at least 6 months within 12 months of settlement or within 12 months of the building being completed if it's a newly built home. You have 12 months of settlement or building completion to apply for a grant. The grant will only be paid at the time of settlement or building completion or in the case where you apply after this time period subsequent to your application. Ensure that contracts are exchanged between the two parties (buyer and seller) before any cut-off dates.
Should you use a buyer's agent?
Buyer's agent is becoming more common in Australia, they will charge a fee for their services (normally based on a certain percentage of the property sale price) so it is advisable to make sure if you are able to budget for the extra cost.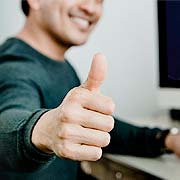 Aussie is a trusted & reliable provider of home loans
In our review, Aussie adheres to the compliance criteria in accordance with the National Consumer Credit Protection Act 2009, where the granting the loan will not cause financial distress to the consumer.
Aussie is a registered credit provider in Australia: ACL 246786
Customer Reviews & Testimonials
"
The online loan calculator has been a tremendous help in allowing me to see what I can afford and how much we will be paying for our home at the end of the day.
Isabel A
— Gold Coast —
Aussie is a finance provider I know I can trust, I have been doing business with them for years and will continue to do so.
Killian G
— Newcastle —
I have had a truly pleasant experience with Aussie. They have been by my side throughout the entire process and I thank them for that.
Collin H
— Cairns —
Aussie Contact
Contact Number
E-Mail
Website
Physical Address
Shop 5, 36-50 Taylor Street

Annandale

NSW

2038

Australia
Opening Hours
Monday

09:00 – 17:00

Tuesday

09:00 – 17:00

Wednesday

09:00 – 17:00

Thursday

09:00 – 17:00

Friday

09:00 – 17:00

Saturday

– Closed

Sunday

– Closed