Debt consolidation loans up to $100,000
Low-interest starting from 18%
Repayment up to 10 years
In-page navigation
---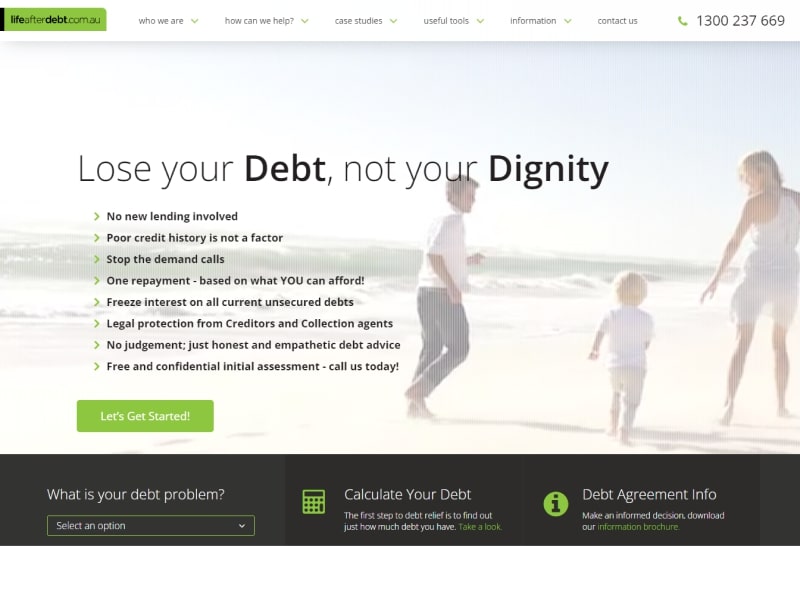 Author Life After Debt. Screenshot of Life After Debt website.


[Accessed April 7, 2021]
Life After Debt - we are the debt specialists
When you have a toothache, you go to the dentist right? But when you have a debt problem you would need a debt specialist and that is exactly what we are at Life After Debt.
Life After Debt help people just like you, our advisors and consultants have over 50 years combined experience. All our advice is private and tailored to each one's individual needs.
We design solutions around your financial needs
We make the time to get know you as well as your financial situation and lifestyle so that we can find a solution that will help you to get your debt under control and live contentedly.
Together with our skilled knowledge of debt consolidation, we will advise the pros and cons of each available debt management solution and what it will mean for your standard of living. Contact us today we'll show you that there really is Life After Debt
Debt consolidation is the solution
So let's get started on working out how we can get your debt manageable with one of our debt consolidation loans!
We salute you on having the courage to face your financial debt head-on. Life After Debt is here to support you every step of the way, we bring you the debt relief you didn't think you could have. Your personalised help is here! Allow us to assist you with your debt, no matter where you are perhaps from Perth, Melbourne or situated anywhere in between.
Our offer to our clients
You will have no judgment against your name
Those collection calls to settle your short-term loans and credit cards will end
The advice given is confidential, honest, transparent and straightforward.
Tailored debt management solutions
We have wide Australia team
Our Debt consultants and advisors have over 50 years combined experience
We will assist you in obtaining a free copy of your credit file; this is part of our debt solution assessment
Life After Debt – Consolidation loan
Loan Type

Debt consolidation loans

Interest Rate

from 18%

Loan Amount

up to $100,000

Repayment

2 years to 10 years
Benefits of Life After Debt
Become debt free with our service
Get quick solutions
Better rates and fees
---
Life After Debt - We can help you manage your debt
Your first consultation is free of charge and confidential. Apply for debt help and guidance today.
Why choose Life After Debt
Our Consultants are able to show you the path to financial freedom plus they are great debt stress relievers. All you need to do is read some of our testimonials from happy customers to see that we truly are able to assist you, so many of our customer have told us that the felt much better after they have spoken to us.
The consultants are specialists in their field who assess your situations to find a better solution to suit you and your creditors and more importantly, your budget. We don't stop when your debt management solution is in place because we will keep you updated on a regular basis regarding your debt elimination progress, as well as our debt guidance.
A debt relief guide
We take your current situation and tailor- make an affordable and achievable debt solution which is also practically suited to your needs, while you are still able to enjoy life. A financial solution will be tailored that will assist with your unsecured debt, to get rid of the stress and put you in control of your debt.
There is no judgment on our customers; we realize that many people feel ashamed that their debts have gotten out of control. There is no need to feel that way! More often than not our circumstances are to blame; it's not your fault! Life After Debt Australia has a team who understands and has empathy, who will guide you through your debt relief options.
Your debt options
Don't put off getting the help you need any longer. Life After Debt can assist you in combining your debt into one affordable payment, our services offer assistance to people living in Perth, Sydney or anywhere in Australia. We will work together and get your debt under control and get your life back, so don't put getting help off any longer, contact us today
Whilst Debt Management is serious, we provide a solution and the relief of collection agents, those harassing phone calls, demand letter and notices of legal action. The minute we are appointed to put your debt solution in place all those worries are taken care of, we take over all the contact with your creditors as the intermediary and then liaise with you to find the best solution. We will use our experience and knowledge that's been gained over the last 50 years of working in the debt management and restructuring sector to help you avoid Bankruptcy and lead you to your Life After Debt
Poor credit history
If you're worried about having a poor credit history, don't be! Out debt solutions are intended for individuals who may not be eligible for debt consolidation. Besides we have confidence that you may be able to get a debt consolidation loan, Life After Debt can put you in touch with the experts who are able to help you. Having a poor credit history certainly can cause problems when you want to apply for credit, however, with our debt solution this has no relevance. If you are unsure of your credit rating, we will assist you in obtaining a free copy of your credit file because this is part of our initial assessment.
We major in assisting people who are harassed with incontrollable levels of personal debt. By consolidating all their debts into one payment package which is a negotiated agreement with Creditors, there is no new personal loan and there is no interest applied. As soon you have agreed, it simply means you have one reasonable expense to contribute towards all unsecured debt. Once your agreement is finalised, you are free of those debts forever.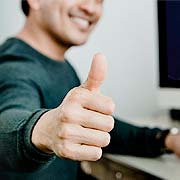 Life After Debt is a trusted & reliable provider of debt consolidation loans
In our review, Life After Debt adheres to the compliance criteria in accordance with the National Consumer Credit Protection Act 2009, where the granting the loan will not cause financial distress to the consumer.
Life After Debt is a registered credit provider in Australia: ACL 77102
Customer Reviews & Testimonials
"
December 2018
I like how Life After Debt was so invested in me and the dire situation I found myself in. It was great talking to people who were so willing to help.
Michael B
— Gold Coast —
February 2019
The staff at Life After Debt was incredible. Thank you for the valuable advice and direction you gave me so that I could tackle my debts and win.
Hazel M
— Brisbane —
Life After Debt Contact
Contact Number
E-Mail
Website
Physical Address
628-630 Newcastle St

Leederville

WA

6007

Australia
Opening Hours
Monday

07:30 – 21:00

Tuesday

07:30 – 21:00

Wednesday

07:30 – 21:00

Thursday

07:30 – 21:00

Friday

07:30 – 21:00

Saturday

09:00 – 21:00

Sunday

09:00 – 21:00